The Most Trendy Spots to get Married in Mexico
2018, 11, 18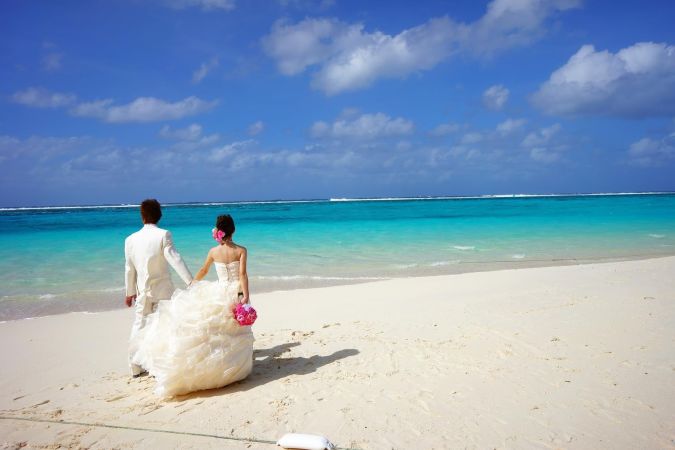 Mexico is the top ranked international destination for U.S. based couples marrying away from home. With its fascinating and rich culture, Haciendas from the colonial period, idyllic towns that have been granted the moniker of "Pueblos Magicos" (Magical Towns), world-renowned cuisine and tequila, world class tourist attractions, and beautiful beaches, Mexico has no shortage of arguments to attract the future bride and groom.
On one side is the Yucatan Peninsula; famous for its vestiges of pre-Columbian civilizations lost in the heart of the jungle, but also for having beaches (and unique diving) that stretch for miles. It is the ideal place to say YES abroad. There are also numerous activities to keep you and your guests busy: explore ecological parks like Xcaret and Xel-Ha by day and hit the clubs of Cancun or Playa del Carmen by night.
On Mexico's Pacific side, Puerto Vallarta offers bay and mountain views, while Riviera Nayarit (a surfer's paradise) is a great choice if you want to go off the beaten path.
However, today a Mexican wedding is no longer just limited to the coasts. There are now a wide range of world class offerings in the central region of Mexico, an area that in the past several years is being more fully discovered and appreciated by international visitors. Guanajuato has been an agricultural hotbed for decades and now is being visited for its rich cultural history and beautiful natural landscapes. Other gems in the central region are Taxco, the silver capital, Tepoztlán, a World Heritage Site, and Valle de Bravo, home to the wintering Monarch butterflies, just to highlight a few on a very long list.
Planning a wedding is a tall order. From the venue to the menu, there's a lot to think about. That's why more and more couples are opting to melt some of their nuptial stresses away by heading to Mexico to host their Big Day. If you are considering this attractive option, here are some destinations to get your wedding wheels turning.
1. Cuernavaca
It's proximity to Mexico City, makes Cuernavaca a convenient destination. There are several world class venues for garden weddings so you can have that glamourous, outdoor wedding you have always desired. The perfect weather in Mexico makes it possible and there are locations for all budgets.
2. San Miguel de Allende
San Miguel de Allende and nearby sanctuary were declared a World Heritage Site by UNESCO in July 2008. It was chosen both for its well-preserved Baroque colonial architecture and layout and for its historic role in the Mexican War of Independence.
In 2017, it was named the best city in the world by 'Travel + Leisure' magazine for its quality servide, friendliness, cleanliness and mobility.
3. Valle de Bravo
A lakefront paradise, Valle de Bravo is a favorite weekend getaway for the city crowd. There are several tourist attractions that keep the visitors returning throughout the year. Whether you just want to sip on some Mezcal with a scenic view or go paragliding off the surrounding mountains you will find the activity to match your mood.
4. Cancún
Known for its endless white sand beaches and a flair for fun, this seaside escape will attract visitors of all ages with endless day and nighttime activities.
No longer the spring breaker's playground of yesteryear, Cancun is more sophisticated than ever, with its new focus on upscale travel.
5. Riviera Maya
This unforgettable Caribbean coastline is home to lush jungles, peaceful cenotes, historic archeological ruins and unspoiled, white-sand beaches.
This 80-mile stretch of Caribbean coast offers more than just all-inclusives (though there are many). The Riviera Maya is also prime real estate for exotic wildlife, jungles, mangroves, white sand, turquoise water, eco-adventures and thousand-year-old Maya sites.
6. Puerto Vallarta & Riviera Nayarit
Known for its famous malecon (seaside walkway), Puerto Vallarta is consistently rated one of the friendliest towns in the world and is filled with colorful Mexican charm. And Riviera Nayarit is located just north of Puerto Vallarta, boasting high-end, all-inclusive resorts, with authentic surf towns.
Puerto Vallarta's cityscape and exploding food scene are a lively complement to the sleepy villages of Riviera Nayarit, whose enclaves range from posh (Punta Mita) to boho (Sayulita). You can easily drive between Puerto Vallarta and Riviera Nayarit, and both front Banderas Bay; frequented by some 800 humpback whales every winter.
7. Los Cabos
This formerly sleepy fishing village blends stunning views of the desert, mountains, and beaches on the Baja California coast.
Though Los Cabos is appropriately dubbed Land's End, Mexico's far west coast is a mere 2½-hour flight from Los Angeles (translation: celebs love it) and offers eye candy galore, from deserts and beaches to jagged cliffs and postcard-worthy sunsets. Bonus: It rains only 10 days a year.
Amidst all these options, Mexico guarantees to offer you and your family and friends the perfect setting on your special day. You simply can't miss!