A Guide to Mexican Weddings for Non-Mexicans
2019, 08, 16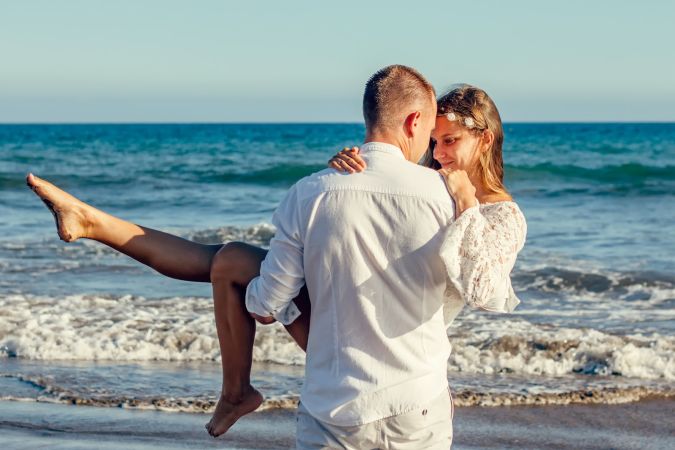 When you find the perfect person everything about love is easy and the word "no" is almost absent from your vocabulary….Until the wedding planner starts.
Thinking about flowers, theme, dresses and tuxedos, guests, family, indoors or outdoors, small or huge, the perfect venue; all of these can be overwhelming. At this point you're probably thinking, "God, how can I please everyone and still enjoy my own wedding?" Worry no more, we have the answer and we promise you it will be unique and fantastic:
A Mexican Wedding
A Mexican wedding is more than a regular wedding. Mexicans are well known for their beautiful traditions, their warm, charming people and for making you feel welcome by showing you the best time possible at every opportunity. Mexicans are also universally recognized for throwing amazing parties; and no, it's not about a night full of tequila and mezcal, it's all about the ambience, the people and the celebration of life.
Having a wedding in Mexico is a unique experience. Forget about boring wedding receptions, bad weather and stodgy guests, and instead focus on a lively reception, amazing weather, and happy guests. Imagine all the perfect pictures you're going to have… Okay, coming back to reality…
Traditional Mexican weddings are filled with surprises, starting with the music: cumbias, banda, norteño, mariachi, you name it; latin music will get everyone up on their feet dancing, even those who swear they can't dance. We promise you it's going to happen! Now "the props", yes you read it right "props"; Mexican receptions use props to make the party more colorful and vibrant: inflatables, funny phrases on signs, big hats, glasses, slippers to help the ladies dance…all of these are part of the mix.
Now a heads-up; Mexican weddings are so much fun that the bride, groom and guests usually party until really late or really early the next morning, until approximately 5am. These kind of weddings are so unique, cheerful and beautiful that one could wish that they never had an end.
These are some of the best places to experience your perfect wedding in Mexico:
1. Mexico City
As one of the largest cities in the world, it comes as no surprise that you and your guests can stay entertained for an entire week and still not scratch the surface.
Climate
At 2,250 metros above sea level, you will find cool mornings and evenings that can be 20ºF-30ºF below the average daytime highs of 70ºF-80ºF.
What to do
What isn't there to do would be the more appropraite questions. Spend the day in Chapultepec park, one of the largest city parks in the western hemisphere; visit the world class museums found on Paseo de Reforma; go visit the pyramids at Teotihuacan; go shopping in Polanco, Mexico's affluent district; and take a breather while enjoying tacos and tamales while the Mariachis play.
And there will be plenty more to explore when you come back for your wedding aniversary.
Only 2 hours from Mexico City, this weekend escape with its beautiful natural scenery and vibrant culture is a highly desirable destination.
Climate
A steady temperature throughout the year, you will find daytime highs of 75ºF and nighttime lows of 52ºF.
What to do
Depending on your activity level, there are several daily options.
Extreme: Water sports on the lake, parasailing, zip lining.
Moderate: Hike to the 110 ft. waterfall, visit the Monarch butterfly biosphere reserve, horseback riding.
Relax: Cocktails on the patio, walk around town, shopping.
You'll wish you had 1 more day to spend here.
3. Cancún
White sands, turquoise Caribbean waters and year round sunshine. That description summarizes everything that Cancun has to offer. If you want to plan your wedding here, you'll be surrounded by astonishing beauty.
Climate
Cancun has tropical weather, so you can enjoy warm, sunny days almost every day of the year with an average of 70% of days without rain. The temperature ranges between 81ºF to 95ºF.
What to do
Cancun has so many things to do that you might want to say bye bye to your guests and spend your honeymoon here.
Make sure you take the time to: Enjoy its crystal clear waters and swim with some colorful tropical fish; go to the ecotourism parks; scuba dive in a "cenote" (an underwater cave); explore the Mayan monuments and ruins; go downtown and enjoy the local food; and feel adventurous and visit the islands of Isla Pajaros, Isla Holbox and/or Isla Mujeres.
And don't forget to take a day off to lay on the white sands, breathe and experience what paradise feels like.
Golden sand, friendly vibes and mexican charm is what you're going to find in this romantic town. This Pacific Ocean gem is ready to be discovered and explored by you and your special one.
Climate
Puerto Vallarta's weather is tropical wet and dry with an average daily temperature of 70ºF.
The rainy season might vary; it extends from mid-June through mid-October and take in mind that August is the city's wettest month.
What to do
The famous promenade of Puerto Vallarta, called "El Malecon", displays beautiful ocean views along with a large concentration of bars, restaurants, galleries and sculptures. Take a swim in the calm ocean waters of Conchas Chinas and Playa de los Muertos.
Experience the local culture and visit the Church of Our Lady of Guadalupe, take a visit to the artisan market and simply people watch as the locals go about their daily routine.
5. Cabo San Lucas
Where the desert and ocean meet to create a romantic getaway. If a must for your dream wedding is beautiful landscapes, then you've found your venue.
Climate
Cabo has a desert climate with rainfall being a very rare occurrence during the year, which means endless sunny days. The average temperature is 78ºF.
What to do
Cabo is well known for being visited by the celebrities, so if you want that special treatment then this is your place. Find relaxing spas, golf courses and fancy hotels without losing the traditional Mexican vibe.
Visit El Arco, a stunning natural rock formation; enjoy the sea lions, pelicans and grey whales; devour the exceptional local seafood; hit the Hotel California (yes the one from that song); and fall in love one more time at Playa del Amor (Lover's beach), saying I do under the Cabo Sunset.
Every wedding needs to be special and unique, so make sure you have an excellent comunication with your wedding planner and ask about all inclusive wedding packages to find the best options for you and your budget.
Have you said YES to a Mexican wedding yet? Start this new chapter of your life the only way you want to remember it...memorable.